Dress to Express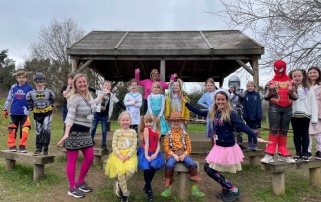 The theme of the 2022 national awareness campaign was Growing Together and Merley pupils enjoyed a special assembly and activities throughout the week built around exploring their emotional wellbeing, confidence growing and appreciation for those who support them.
Headteacher Katharine Anstey explained: "Our school vision is 'growing together to build our future' so this year's theme fitted perfectly.
"We have been encouraging children - and adults - to consider how they have grown, and how they can help others to grow.
"We also decided to hold a 'dress to express' day and invited everyone to come in clothes that made them happy.
"There was a great deal of creativity shown through a huge range of outfits, from superhero costumes and sportswear, to fairies and even pyjamas and fluffy slippers!
"the week has produced a great deal of awareness and conversation, as well as a lot of fun."
Merley First School is part of Wimborne Academy Trust (WAT).
CEO Liz West said: "It's lovely to see the children of Merley First School so aware of the importance of good mental health - and also so many wonderfully brightly coloured outfits to cheer us up during a wintry February."