School Crossing Celebrations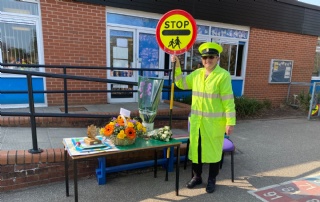 On Friday 25th March, Merley First school and members of the local community joined together in the sunshine to celebrate Mrs Jean Witt helping local families cross the roads to school safely. Jean, who has worked as a crossing patrol officer for over 47 years, has finally put down her lollipop and said a fond farewell to her school crossing patrol role. The whole school came out to celebrate with cards, gifts, flowers and a song , sung by the children reminding Mrs Witt she would always be a friend to Merley First School.
Mrs Anstey, Headteacher, thanked Jean for her tireless service to the community and generosity to the families. Jean, who was joined by members of her family, shared a wonderful message to everyone that she has always felt supported and loved her work very much. BCP Road safety officers were kindly able to join the special event, recognising Jean's incredible service to the community and giving her a truly special send off.